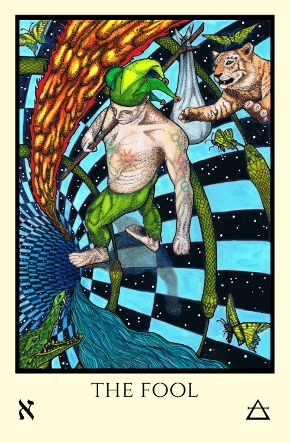 I just finished the color version of the Queen of Cups, and have ten more court cards to paint. But I also have some "extra" special cards to make, and a redesigned color card back, but only ten are left of the 78. I'll be posting the date of the Kickstarter launch this month, so keep in touch. You will want to get in on the early bird specials as there will be some limited edition goodies, and some deals.
Yes, it is true that the Rosetta Tarot is going to be on TV, in a true crime series starting this month. It will be featured in one episode and also shown briefly in another. It will be on the Discovery Channel and I believe the show starts April 19th, though I'm not sure yet if the episode with the cards will be the first episode. I think so, but will post the exact date and time when I know. (edited to add the show starts 4/19 at 10pm on InvestigationDiscovery channel and is called "Murder Among Friends", with the episode titled "Murder Circle")
You probably thought the "esoteric Seuss-style children's book" was a lie, but it is also true. The text is written, and I'm in process of formatting and illustrating it. I'll be making some special hand bound hardcovers. I guess it is only a half truth though because it isn't a children's bedtime story, it is a wake-time story for your inner child. And while I hope to have the prototype done this month, well, I should be painting the cards, shouldn't I?