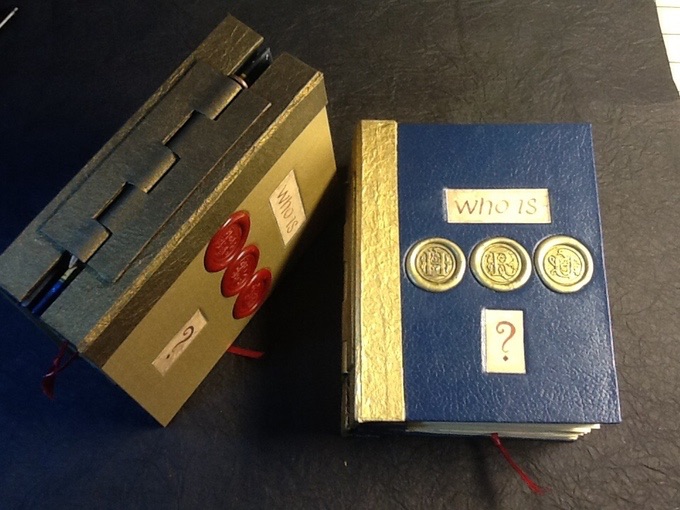 Someone commented on one of the old posts that showed a video of my "Who is HRU?" esoteric pop up book. I realized that while I posted Part I showing the beginning pages and Part II showing the middle pages, I forgot to ever post Part III showing the end pages, including the solution to the riddle and the secret compartment in the book.
Here is Part I of Who is HRU?, first posted in July of 2016. This intial post has an explanation of the text, how and why it was written, and a little more info on the book. Part II shows the middle pages.
At the end of the poem, and the book, is a mathematical equation: ∞ – V = ∞
…or "infinity minus V equals infinity". Since V and U historically were interchangeable (see explanation) and the Hebrew letter V, Vau or vav, was also used to represent the vowel U, the equation also reads as "Infinity minus U (you) equals infinity", echoing HRU's final message: "I'm infinity, minus you."
The colophon at the books end tells you to "Remove the Vau" to find the secret compartment of the book. The Hebrew letter Vau means nail, which forms the linchpin of the book's spine as seen in the photo above.
Unfortunately I can no longer upload videos here due to file size limits. However you can see a youtube video of all the pages that Nya Thyrce took at one of the Fortune's Wheelhouse meetups (back when we were allowed to have meetups! Those were the days…) The parts of the book that would be in Part III starts at around 7:31.
In honor of this final reveal of the book at long last, for a few days I've added back the option to purchase a printable version of the Who is HRU? text, written in calligraphy and suitable for framing. The file also includes a second page with a Pronunciation Guide and Colophon, and a third page of in computer font with Roman numerals added. I'll be removing this from the store in a few days to make room for new offerings so if you are interested get it while you can.