This was a fun image to work with. Crowley's 777 lists the decan image as: A beautiful woman wreathed with myrtle. She holds a lyre and sings of love and gladness.
The tarot Three of Cups, Lord of Abundance, is the middle decan of Cancer, Cancer ruled by the Moon, with the decan itself ruled by Mercury (though the Vedic tradition has it as Mars – which is perhaps a hint as to why 36 Airs of the Zodiac attributes it to Hercules, who doesn't fit well with the cards meaning unless you ponder Hercules/Herakles' connection to Hera.)
The woman here was inspired by the goddess Saraswati, who has many Mercury-like attributes. Saraswati normally holds an instrument called a veena which is in the same family as the lyre. Here she holds a lyre as she sings "of love and gladness" and toasts with three different ornate chalices. The peacock is a bird sacred to both Saraswati and Hera.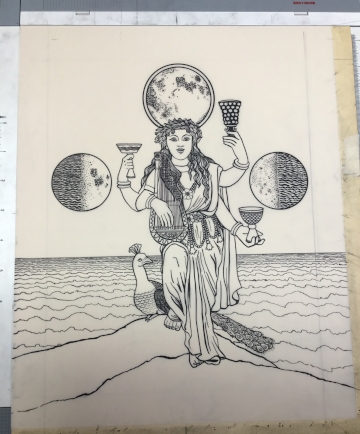 Update: You can see the color version here.
Want to follow along with the creation of this deck? Sign up for the newsletter! No spam and your info is never shared. It comes out monthly if all is going well, though sometimes a month gets skipped!