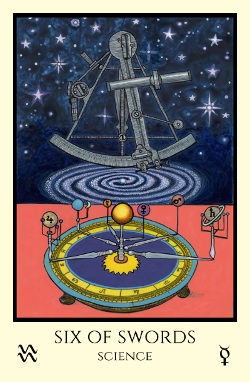 …the Tarot illustrates, first of all, the Tree of Life in its universal aspect, and secondly, the particular comment illustrating that phase of the Tree of Life which is of peculiar interest to those persons charged with the guardianship of the human race at the particular moment of the production of any given authorized pack.
~ Book of Thoth pg 24
DECK HAPPENINGS:
   
Tabula Mundi Tarot Colores Arcus edition available
only a few Nox et Lux (b/w) edition are left
 Babalon edition is in the final third of the edition of 156
 and coming soon, Rosetta Tarot reprinted in FULL size, as the all new papyrus edition with hieroglyphs, and papyrus gold!
 Here are some examples from the all new edition of Rosetta Tarot, coming soon or sooner than the countdown shows:

And from Tabula Mundi Tarot, an example of the minor arcana and how they relate to the Major Arcana, from Tabula Mundi Tarot Colores Arcus edition:

Click here to Subscribe to the newsletter for the Atu House tarot offerings Tabula Mundi and Rosetta Tarot, and for rare occasional musings. Please click the link in the confirmation email, or check your spam folder if you do not get one within a few minutes.
If you want to be updated with news of the tarots of ATU house, please subscribe to the newsletter. Your email address is never shared. You will need to reply to the email you get in order to truly be subscribed, so please watch for it and check your trash folder if it is not received. Add info(at)rosettatarot(dot)com to your safe list so they don't go into spam, or you may not see them going forward.
You can also read posts about the Tabula Mundi deck's creation on the Aeclectic Tarot forum.