My friends at Stone Cow Brewery are hosting a music festival event to raise money to preserve 1000 acres of local fields and forest into conservation status. That's something I can really get behind! And at like the 11th hour, they asked me if I could design art for a music poster. They only gave me only a week to come up with the idea and create the art – which isn't much time! and I'm in the middle of doing this new tarot deck wherein all of the cards must be painted in their appropriate decan, so it was a stretch!
But both the reason for the festival, and the folks at the brewery, are dear to my heart, so I just had to drop everything and make it happen! Plus, hey, I've always wanted to do a music poster – it's totally what I was made to do!
They said they wanted "a beer goddess, pouring out music, with the theme of fields and forests, and oh yeah can you put a baby raccoon in there?" LOL check, check, check, and check! all in 🙂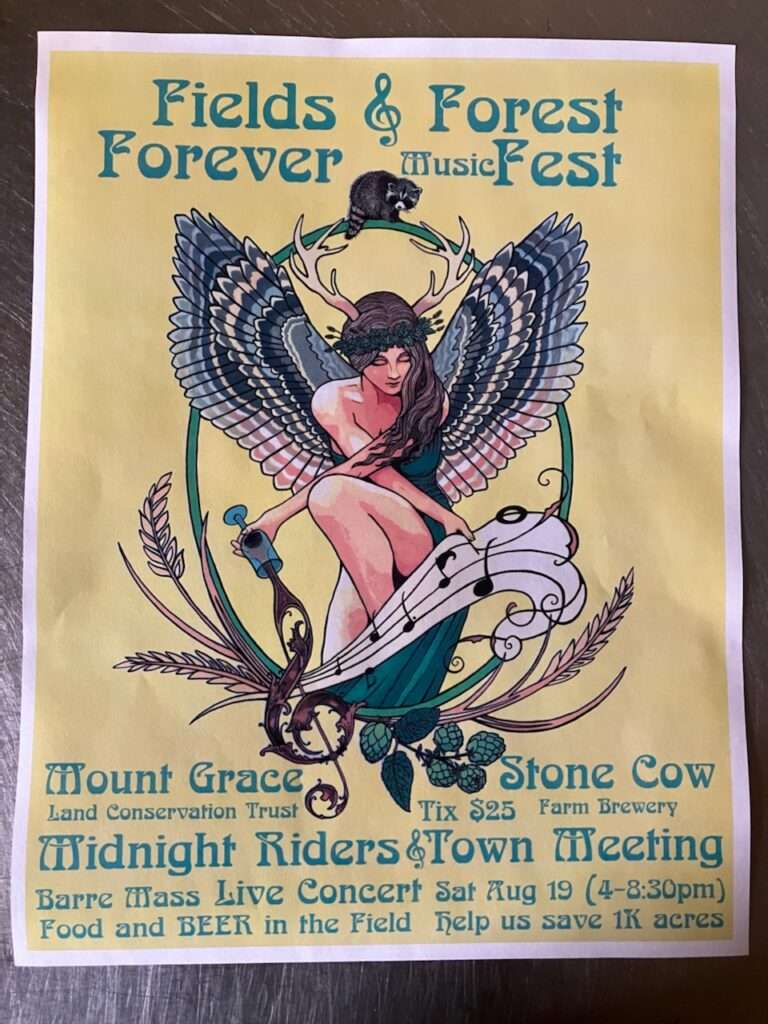 They added the words; I just did the art.
Can you believe that when the brewery posted it on social media to raise interest both Farcebook and Instagroan banned it??!! One because they said it was "sexually provocative" (LOL I guess as my friend's Dad commented, she is "horney" as in she literally has horns) and the other because the poster had the word "beer" on it as they serve food and beer in the field where the music is. But because it's an "illustration" they say it is "marketing beer to children". Gah – this is one of many reasons I am not on socials. You know if they had paid them the money for advertising instead of just posting it those problems likely would have magically gone away.
But they brewery people were cool they didn't care – they love the art! It's going on a can of "Fields and Forests IPA" too!
If you are in Central Mass, come to the fest, eat some food, drink some beer, listen to some jams with the Midnight Riders and Town Meeting, and help put land into conservation!