At the end of May, I posted that poll asking you all to vote on the three cards you most want to see when I first post the work on my newest tarot deck. The poll results were posted at the end of June. In case you missed it, here they are: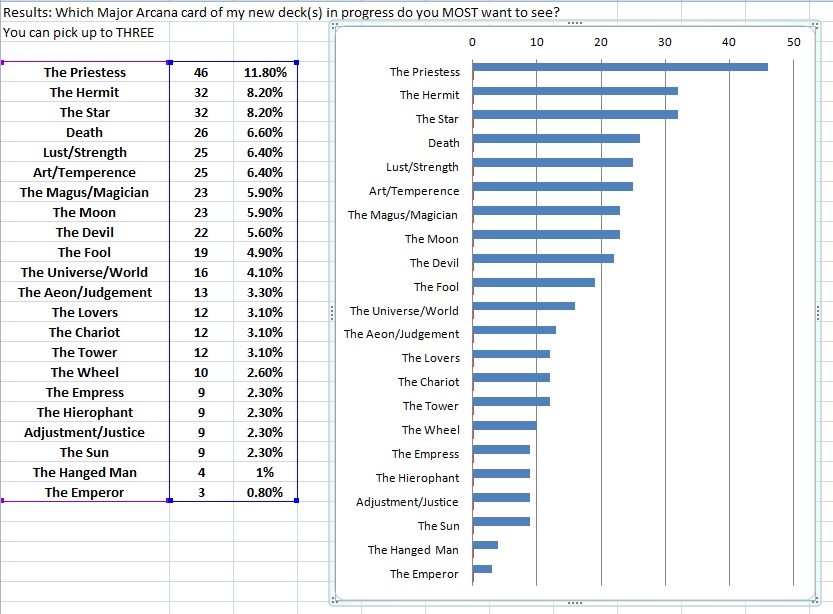 Two more months have passed and now it is the end of August. You may be wondering what is up with the deck and when show-and-tell begins. Me too! I thought I'd be ready to post something after the poll, but as soon as I posted the poll I got sidelined for 6-8 weeks with the duty of cleaning up my departed brother's estate. I am glad to have stepped up for it, for him and for my family, but it sure was a lot of work and took up energy and time and emotion.
But still good progress is happening. Since then I have been working on it every day for hours, except for a recent 4 day vacation where I didn't paint for four whole days. (I missed painting, but the beach was fun.) As of now, all of the Major Arcana rough sketches are done, and many of them have been painted to completion. I haven't shown any of them yet, because I have a goal of getting a majority of the Majors completed as full paintings rather than drawings, and then showing them or a bunch of them all at once rather than individually. I'll still show the process if there are people interested in the art side of it, from concept to rough sketch to painting.
I know, I did the poll and was going to post a selection based on the results of that. But I am painting them in sequence and think the deck will be better presented with the Majors as a group showing the narrative of the work, if that makes sense.
But I can tell you a little about the deck in advance of the preview. I don't want to unveil the final paintings just yet, so please bear with me a few weeks longer. I think the unveiling will be in September or more likely the first week of October, if all goes well. September is a busy month though, with the Fortune's Wheelhouse Academy Meet-Up Sept. 15th (with Lon Milo!) and I also have a booth at the North Quabbin Garlic and Arts Festival Sept. 29th-30th to prepare for, so it may be more like October. I'm really trying! I am having a hard time preparing stuff for those two events, and keeping up the work on the podcast, because it takes me away from painting where all my true energy is. In hindsight I should have kept myself commitment free, but since I honor my commitments, here we are.
What is different about this deck? I set out to do two things. One is to present the tarot archetypes in a new way, new in that it had to be different from what I or others have done before, and the other thing is to continue to grow artistically. How many times can one say something about each card in a novel way, that is innovative and yet true to tradition, and while challenging oneself as an artist and trying new things? It isn't an easy task. And while I'd like to think each time around the wheel it gets better in some ways, I also just want to keep moving and working, and not get too hung up on whether it was "better" than my last two decks. So I won't promise you will like it better, but it will be different, and I hope, good enough that you will like it.
For this new deck, I'm working large. The finished paintings are on A3 cold pressed paper (around 12×16.5″) but the painting area is around 9.5×15″. This is twice as big as the Tabula Mundi originals which are 7×9.5 – and oh maybe fifteen times as big as Rosetta, which was painted card size! Working larger felt right, as I'm also exploring a new medium: watercolors! Now before you start thinking of watercolor as being pale, pastel colors and light washes, I'll just nip that in the bud and say nope. These are not that. I like COLOR, and the colors are vibrant. I'm working with the Golden Dawn Color Scales again of course, and learning so much more about them this time around. This deck is an exploration of LIGHT and COLOR – and water, thus watercolors, because watercolor is famous for allowing light to shine through from the white of the paper under the colors that are transparent and dispersed by the water. These aren't the "loose" ethereal style of watercolor painting. I'm afraid my style of painting is more precise than that, though I do incorporate passages that are like that, within the painting. I guess you will see what I mean, soon!
The upside of working larger is, I can incorporate more of the watery techniques that make watercolor art so beautiful and luminous, rather than only working lightly with little water and tiny brushes on a small work. Although, there is plenty of tiny brush work, that's for sure! I sometimes have to wear a magnifying headlamp. The downside of working larger is, duh, it takes even longer to paint something large than something small. Figures! I didn't really think that would be the case but of course it does!
Watercolor is a medium I've never used much before, and it is said to be the hardest to master (of course!) so this has been a huge learning curve which may explain why it is taking me so long for each one. The only time I ever did anything in watercolor was in the Cups suit of Rosetta Tarot, which had a different media for each suit. That doesn't really count in my mind, as though I used watercolor some of that was also water based ink which is very different and more like acrylic, and that art was tiny so it wasn't really possible to use the watercolor in the watery way watercolor is known for. Plus, even then, I found it terribly difficult, and wasn't very good at it! I had more difficulty with it than any other suit in Rosetta (though the Swords cards were hard too as I had to complete the etchings part of them, scratching the images onto plates in only two weeks for the entire suit, and that was a new medium too. Explains their rough look, but it fits the mood of the suit.)  Though I am still learning and by no means have mastered the medium of watercolor, I get it now in ways I didn't then.
But to give you an idea of the difficulties of a self-taught artist trying to paint in watercolor for the first time, lets just say I've had to throw out many paintings. I think I threw out 6-7 versions of the Fool, a Magus or two,  4-5 of the Emperor and 3 or 4 Hierophants right at the beginning, and I still seem to have to throw out one of each for fails. Maybe I won't have to later in the sequence but it seems to be the price for trying new techniques. I keep finding out maybe they don't quite work how/where or in the way I envisioned, or having to get them right and keep trying. It is a process of finding my way.
I really loved working on Tabula Mundi Tarot, first the fine lined detailed line art of the black and white version, and then painting them in acrylic inks. But I didn't want to do 78 works of art in the same media and style again. I wanted to do something new and challenge myself rather than continuing the same way even if it worked out great. These are so different. No lines that show, though I do paint over a light drawing, and what is really hard is that watercolor isn't like acrylic paint or acrylic ink which can be painted over when dry, so if you don't like something you can paint over it to modify it. You can't really do that in watercolor. Maybe a little, but not if you want to retain transparency or avoid colors bleeding into each other.So you pretty much have one shot at everything you put down. So a lot of expensive watercolor paper gets thrown away, sadly. It killed me at first as a Yank but I got over it and now it isn't the paper that bothers me so much as the time. I guess the time isn't truly thrown away though, as I learn something each time I ruin one.
The next time I post anything about this deck, there will be pictures, I promise. Sign up for the very occasional newsletter on the home page and you will be one of the first to know.