That's right – I'm taking another spin on the wheel, and an image and invocation style decan walk as part of the process to create another deck. Aries Decan 1, 1st, the first face of Aries, the tarot Two of Wands.
I began this process on the vernal equinox at dawn (Sunday March 21, 2021) and started work on the image Tuesday (Mars' Day and hour) and finished the art, consecrated it with a personal decan invocation during Mars hour today, Sunday with the Sun still in the first decan of Aries.
Aries 1 – First decan of Aries
I'm mainly using the description from Crowley's 777, but also looking at other decan description sources:
Crowley; Ascendant Decan of Aries: A tall, dark, restless man, with keen flame-coloured eyes, bearing a sword.
Picatrix: The form of a black man, restless and great in body having red eyes and holding a cutting axe in his hand, girded about with white garment; and there is great worth in this face. And this is a face of strength, high rank, and wealth without difference.
Agrippa: Therefore it is said, in the first face of Aries, ascendeth the image of a black man, standing and clothed in a white garment, girdled about, of a great body, with reddish eyes, and great strength, and like one that is angry, and this image signifieth and causeth boldness, fortitude, loftiness and shamelessness.
Bruno: In the first face of Aries is a man with a radiant black complexion, of immense stature, with burning eyes and a grave countenance, standing clothed in a dazzling white garment.
Vedic: The First Drekkana of Aries represents a dark complexioned man with a white cloth round his waist, liberal minded, ready to don the garb of the Redeemer, oriented to protect, with awesome red eyes & with a lifted axe. This is a human decanate and an armed decanate.
Aries 1 – First decan of Aries; talismanic art of the Two of Wands: The Emperor (Aries) and decan ruler Tower (Mars)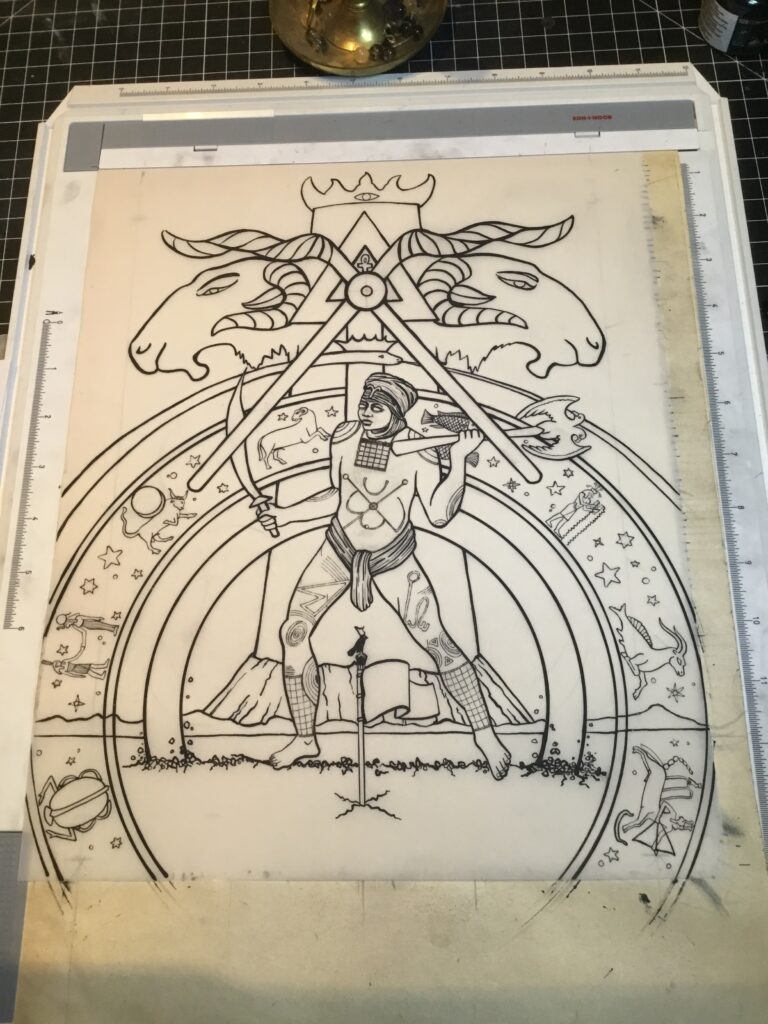 Invocation of Aries I by M.M. Meleen. For staking claims of true precedence, claiming sovereignty of self, leading the pack, and winning.
See?
I plant my flag.
I claim dominion of the directions.
Ram regardant, I lead the beastly circle.
First son, last born: the decans my destiny.
I break ground.
Motion is mine.
Martial flint, solar spark, as year revolves.
My serpent mouth consumes all, circling round to satiety,
where my dominion is sealed.
Here first I was.
I Am, and ever shall be.
North and South, East and West, Above and Below:
Dominion is mine!
All see:
I AM.
As it was, as it is, as it shall ever be.
It is known.
Son of the Morning, I marshal the hosts of the mighty.
I draw from the earth-star, the chthonic fiery core. I draw from the star-fire, lead the celestial parade.
By the Ram and the Boar, I claim the peak and the trough.
Above and below, I claim dominion.
By crown and scepter, by hook and flail, by shield and spear,
I prevail.
I declare I am:
Angaraka, born from the celestial sweat of the Lord of Beasts;
Assiccan, Aroueris, Zazer.
As Horus, I stand upon the pillar.
As Emperor, I look out over the rampart.
As Grand Architect, I survey my domain.
See?
I stake my claim on sovereignty.
First I was.
I AM
and shall ever be.
Want to follow along with the creation of this deck? Sign up for the newsletter! No spam and your info is never shared. It comes out monthly if all is going well, though sometimes a month gets skipped!