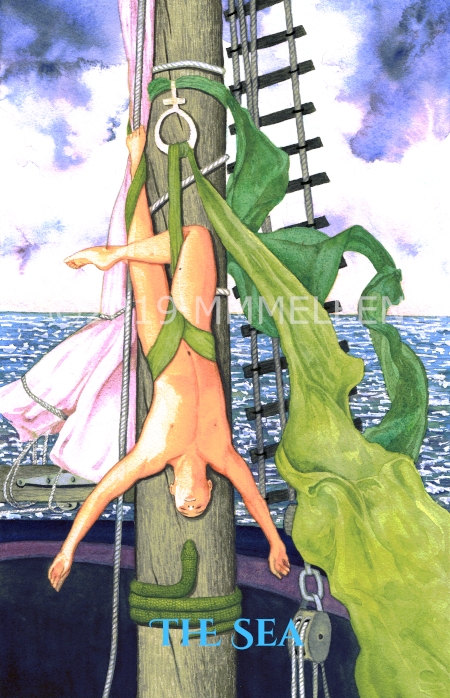 This is the first card I chose to post for Pharos Tarot, a new tarot journey and deck in progress.
I thought it should start by showing a Mother letter, as after all everything comes from them. Since this is a journey of water, I thought the Hanged Man is a good place to start. I call this card The Sea, where it begins.
The Hanged Man is Mem, one of the three Mother letters, corresponding to water. Pharos Tarot is a watercolor deck, and watercolor is all about the interplay of water, pigment, and light. One could say even that as a medium it best describes the elemental journey. It certainly involves water, and fire (light) but also air as it dries and earth in the form of pigment.
This deck is about my exploration of the medium of watercolor. It felt like the medium that would be best for this deck, as it is also an exploration of color, and watercolors are known for their luminous quality as light plays through their transparency. Watercolor is a medium I've never used much before, so it is very new to me and it is extremely challenging. I wanted an artistic challenge. But that means making a lot of mistakes. I have a lot of cards done, almost all the Majors, but several of them are going to be redone, as along the way the seas have been rough. I'm learning to ride the waves.
More to follow…ever onward.https://www.tabulamundi.com/pharos/