This has also been posted as update #14 on the Kickstarter for backers of the Colores Arcus edition, so forgive me if you are a backer and have seen it there. But often those updates go into spam folders (at least they do for me) so I thought I'd post it here.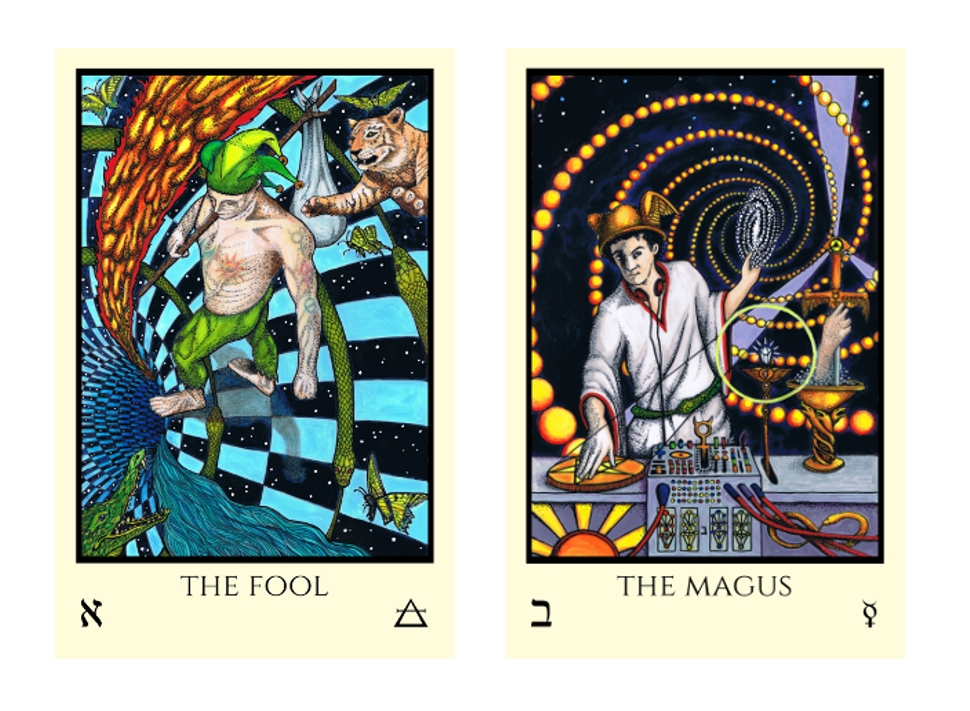 Here in the northern hemisphere, today March 20th, is the Vernal or Spring Equinox. At 6:28 AM Eastern time the Sun entered 0 degrees of Aries, what is called the "Zero Point" or start of the zodiac. This is a placement that I always associate with The Fool, with his spring green fool's cap suggestive of the horns of Bacchus, and his step into (or out of actually) the Zero or void. A time for new beginnings and explorations, spring has the energy of coming forth. April Fool's Day is just around the corner.

Wormhole trip
It has been exactly five months since the Colores Arcus edition of Tabula Mundi Tarot was released to the world and shipped off to you. I hope by now you have bonded with your decks. Time is so strange; it seems like a lifetime ago yet it also seems like only yesterday. So it goes in the wormhole – the fabric of space-time is elastic, much like the language of Tarot.
I thought you might like to know three new things, for this new season.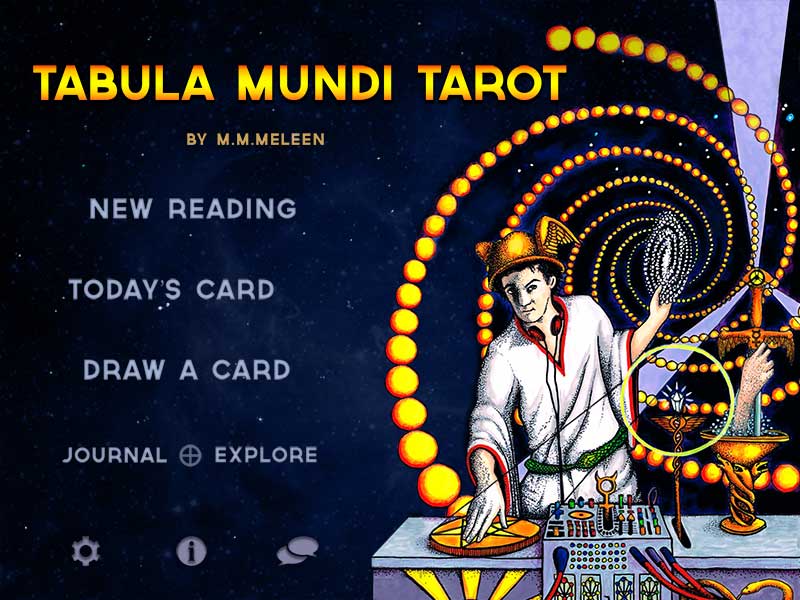 Take it for a spin…
1.) Today at sunrise on this most auspicious day of new beginnings, Tabula Mundi was launched as an app by the Fool's Dog (here are links for both iOS and Android). The Fool's Dog is the team that brought my first deck, the Rosetta Tarot, out as a tarot app, and not only are they the greatest to work with, but they are very good at what they do. Caroline is an experienced and knowledgeable esotericist and Jason is a brilliant programmer who has worked with Apple since the early days. They make the best tarot apps out there and there is no one I'd rather have the work associated with. These apps not only have the deck in glorious color, with many spreads and features that enhance usage, but also both apps contain the entire full size guidebook for each deck. (And the apps are even encoded with spells for connection to the tarot archetypes in the code – who else has that?!) The app is both for iOs and Android, and can be found at the links here at the iTunes store for IOs devices and here on Google Play for Android. I have the Rosetta app, and use it all the time, so I am so happy that now I will have Tabula Mundi at my fingertips too.
2) Speaking of 0 degrees Aries and the start of the zodiac, I also wanted to let you know that I am going to make the expansion pack with the decan cards and the other extra cards available soon. These were announced during the Kickstarter campaign and included with the Babalon reward tier but until now have only been available with the Babalon edition decks. Since that edition is so small and nearing completion, I thought it would be a shame to not have those available since many of you requested them. I have a small quantity of this expansion deck of 14 cards and when they are gone they are gone. These cards have silver foil borders and titles to help visually distinguish them from the rest of your deck. They include a Minutum Mundum Tree of Life color scale reference, the new Lust card, and the 12 decan cards. The decan cards can be used as significators of a person or of an issue, for timing questions, for meditation alongside the three related minor cards that they are comprised of, as a mnemonic, or as an oracle based either on astrology, or on the three "keywords"  of the related minors.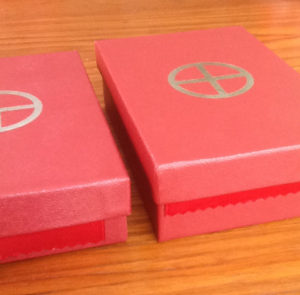 I had to order more deck boxes so I've also made the 78 card deck's boxes just ever so slightly deeper going forward, to more comfortably accommodate the new extra cards if you prefer to store them together, as currently it is possible but not a perfect fit. The old stock of boxes is almost gone but I am still using them, so if you purchase another copy of the 78 card deck and want the new larger box, please mention this. Once the old boxes are gone, all decks will ship in the new deeper boxes so that one can add the expansion.  If you want to buy just the deeper box, I have a few extra of the deeper boxes and a few extra of just the deeper box bottoms that could be used to upgrade your box. Probably less than 50 so once those are gone the only way to get the deeper box will be with another deck.
Since the decan pack is only 14 cards it can be purchased with free shipping if one wants via USPS First Class (They will ship as a letter, without tracking, so at your own risk if you are out of the US) or one can choose to pay for Priority shipping with tracking, or add them to ship with any other item on the store as everything else ships Priority with tracking. If you are out of the US your best bet is to add them to another order in order to get the tracking.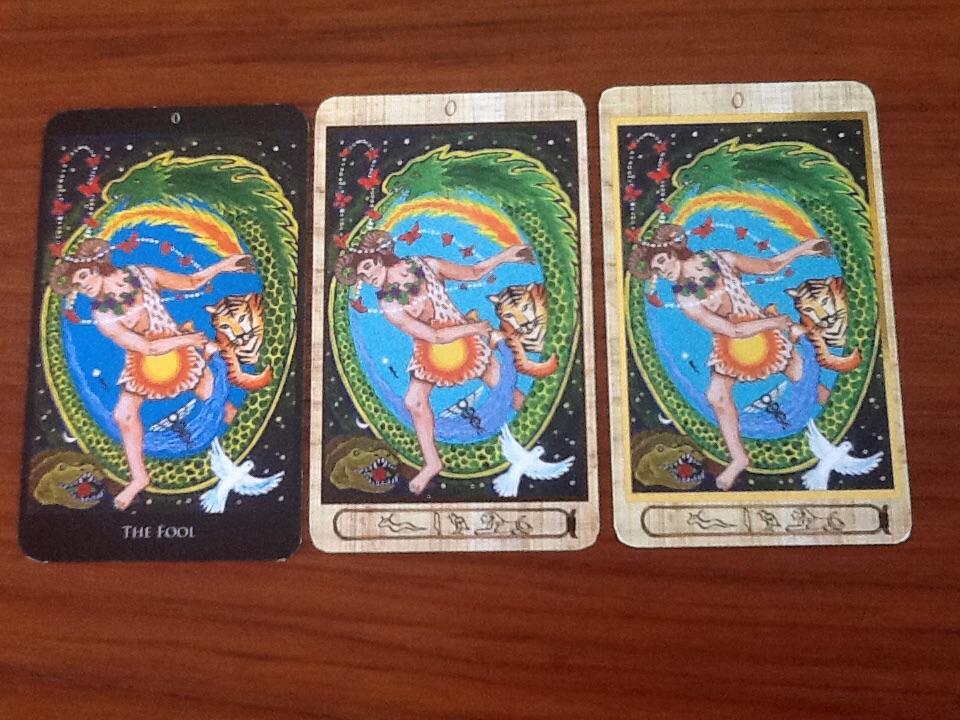 There are old Fools and there are bold Fools…the first edition. the Papyrus edition, and Papyrus Gold
3) In case you were just wondering if there was anything new to order to add them to, there is a new full size Rosetta and guidebook. My first deck the Rosetta has only been available in the "pocket deck in a tin" version for several years. Some of you got this pocket deck in a tin along with your Kickstarter pledge as an add on. The full size decks were not available as they sold out long ago and the Book of Seshet guidebook sold out before that. Since they sold out, I've often had people contact me to ask if I will ever consider doing a reprint of the full size Rosetta deck, and it's full guidebook. I've always said, "well maybe…someday…not sure when.." I wasn't sure about it as I didn't want to just reprint it, if I did it again I'd want to make it somehow better. But I didn't want to change the original artwork. I wanted to do something different.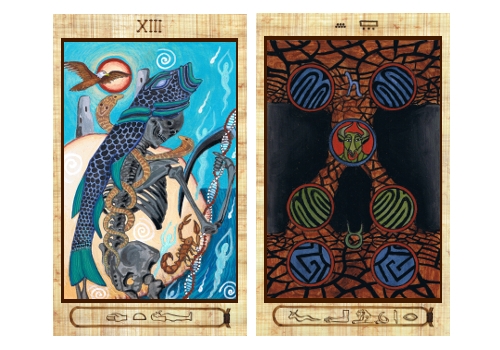 Rosetta failed to die…
What I came up with not only corrects the one thing I'd wished I'd done differently, but also solves a problem for those who read for others – and is just plain perfect for Rosetta. The original card borders were black with a white font. While I really love the way black borders interact with the bold colors, they also show edge wear far too quickly. For this new edition I've replaced the black borders with authentic papyrus paper with the card titles hand written in walnut ink using phonetic Egyptian hieroglyphs inside of a cartouche. Not only does it look really cool, but now when you read for others you don't have to worry about them focusing on the words on the card, especially those chestnuts like Death and Failure and Ruin. But you will know what the cards say, because the deck comes with an extra card printed on one side with the phonetic hieroglyph alphabet and on the other side with all of the other hieroglyphic symbols used. It also will come with a pdf about the hieroglyphic writing, and a significator card featuring the goddess Seshet with a cartouche which can be customized with any name you choose. The pdf will teach you how to do and provide a practice template, and extra significator cards will be available if you want a spare or one for a partner.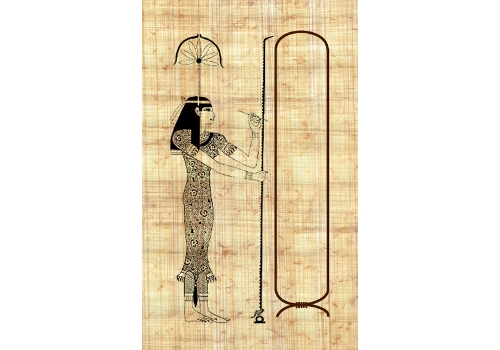 your name in hieroglyphs can be written in the cartouche on the significator
The new version of Rosetta will come in two versions, Rosetta Papyrus edition of 777 copies and Rosetta Papyrus Gold edition of 220 copies. The Gold edition has gold foil borders around the artwork, and comes with a matching bag and some other enhancements. Both versions will be numbered and signed and sold in numerical order.
The Book of Seshet which has been out of print will again be available. This book is 240 pages and has a basic introduction to astrology and Qabalah as they relate to tarot. The book has a six page color insert!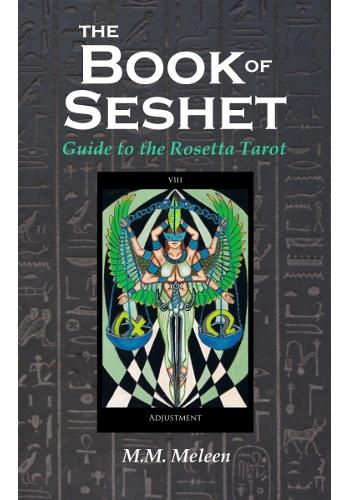 Here is a preview of some of what you get with the Rosetta Papyrus Gold edition: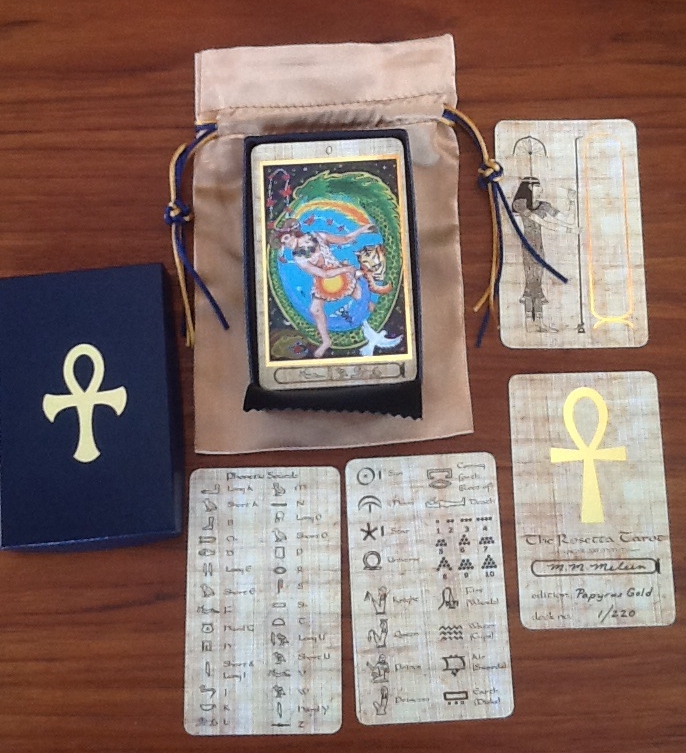 Rosetta, Papyrus Gold edition
78 card deck, hard case with a gold foil symbol and a silk lining, signature card signed and numbered, hieroglyphic translation card, customizable significator card, a pdf of the little white book, a 7 or 8 page pdf guide all about the hieroglyphs on the cards and how to write them, and possibly other goodies I come up with between now and then, or at least some fancy blue and gold packaging.
The Rosetta Papyrus edition (standard, not shown) will be similar but will only have gold on the box and the significator card's cartouche as shown on the card with Seshet, but no gold on on the rest of the deck, and will not come with a bag.
But the best thing about this edition is that the printing technology has come a long way since 2011 when the first edition came out. This printing is so much more true to the original colors I was blown away!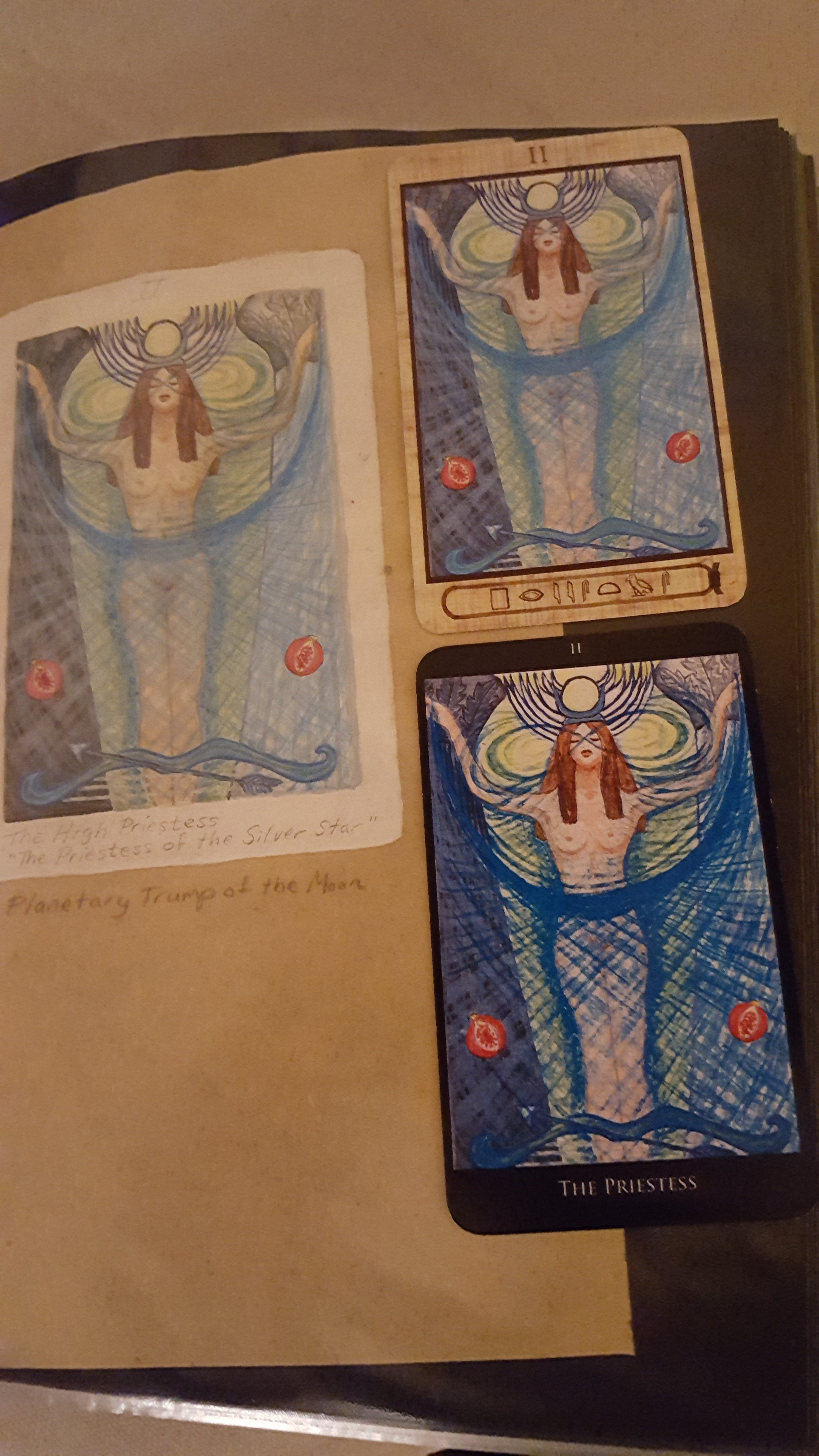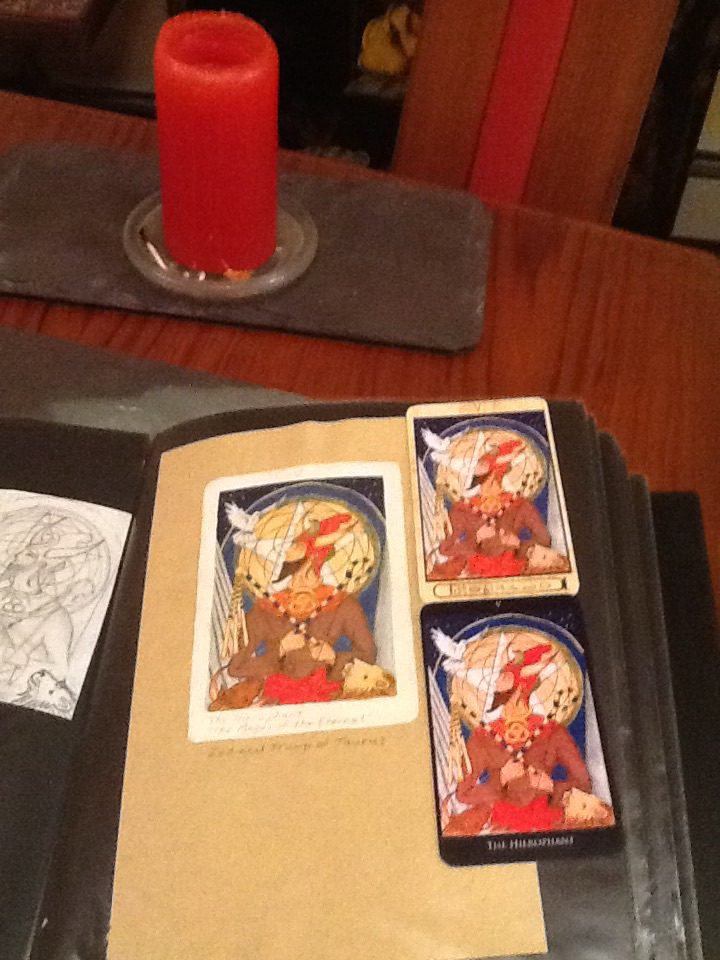 Both the Tabula Mundi Decan card expansion set and the new Rosetta decks and guidebook will be made available on the same day, any day now that spring has sprung! It will be within the next two weeks. If you would like to be on the list to be notified you can email me. Those on the list will get the first email notification with a link and a time that they will go live. Since the decks are numbered and sold in order if you are interested in a low number or in the very limited gold edition you will want to be on the list. For more information and updates, you can also check on the website https://www.tabulamundi.com/ which will provide information on the decan cards and the Rosetta decks as it becomes available.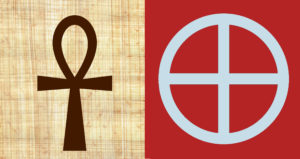 Two forms of the circle and cross
Wishing you all the blessings of balance, and of Light, Love, Liberty and Life on this day of the Equinox, whichever side of the globe you inhabit.