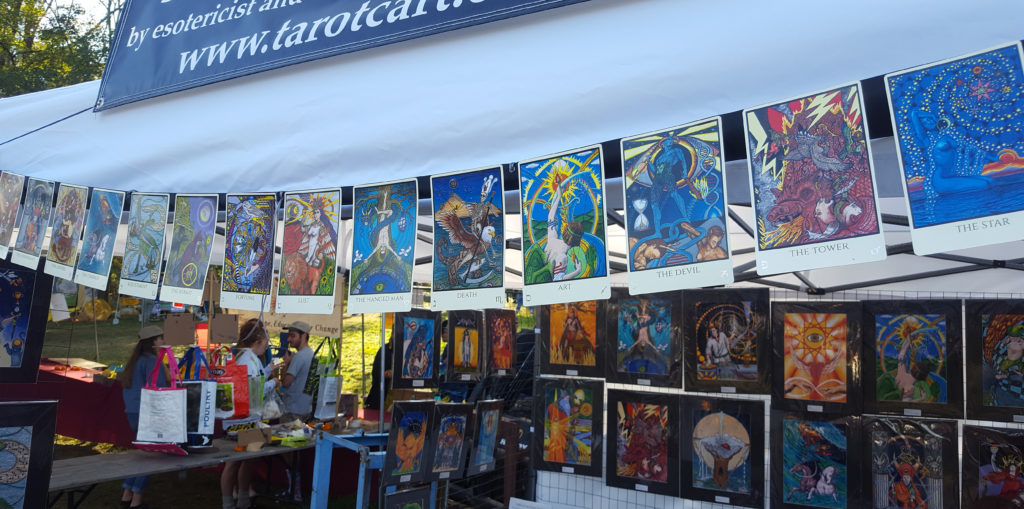 At the end of September, ATO House publishing, my imprint, had a booth at the North Quabbin Garlic and Arts Festival. It was the first time I've done such a thing. I made a TON of matted art prints to decorate the booth, and not all of them sold out so I still have a bunch of prints of both Tabula Mundi and Rosetta Tarot, matted to fit standard frames in 8×10″, 11×14″, and 16×20″. Plus a few cards matted to fit a 5×7″ frame. So what to do with all these prints? Well some of them will be used for our give aways, where we give out prizes every week on our Fortune's Wheelhouse podcast. Patrons at the Fortune's Wheelhouse Patreon site at the $3 level and above are automatically entered to win. But I can only give away so many there, and I don't want to just stuff all this colorful art in a closet. So for the rest of the month of October or until these run out, there will be a special BOGO or "Buy one – Get one free" at www.tarotcart.com. Here is how it will work. You buy a print, whichever one you want, any size, using the drop down card selection on the site. I'll then send you a free one, in the same size, from the available selections already made for the Garlic Festival. For the second one, you can make a request of a few cards of either deck you might prefer and I'll fulfill the request if I can, but otherwise I will select for you based on what prints I already have made. Because the idea for this sale is to move some of these already made matted artworks to an appreciative home. These make a great gift, and are inexpensive to mail, and I'll ship both for the cost of the shipping one, so you could buy one for yourself, then re use the shipping envelope to send the free one to a friend! Your holiday shopping done, almost for free!
All you have to do to get this offer is buy a print on www.tarotcart.com, and in the comment field, say BOGO and tell me if you have any preferences for the free one, or would just prefer a surprise. As I said it is first come first serve and I cannot guarantee your free print will be able to be your choice, but I printed most of the majors in each size, of each deck, and some of the minors. They are all nice though, trust me! They are matted and ready to frame and printed in vibrant, 100 year archival color inks, and signed.
I also made those "prayer flags" out of the extra large majors edition of Tabula Mundi, both the black and white and the color edition. You can see them hanging to decorate the booth. The cards are permanently attached to a 3 inch wide double satin ribbon, with grommets attached every few cards, and thin satin ties to hang them. The cards are centered in an area about 8 ft 8 inches long, with extra ribbon on each side making it around ten feet long but adjustable down to the card area if desired. So they will fit along any size room's wall, pretty much. I have two in color and two in black and white. You can see them below in the first two pictures. Those are available first come first serve, by request, for $77. Just send an email if you are interested, to the info(at)tarotcart email (or any one of my others including mm at this site.) I have a black and white one custom made for a room in my own house along one 12 foot wall.
See the whole progression, from Fool to Universe, all at once!