Last month I posted a poll asking "Which card of my new deck(s) in progress do you most want to see?" The poll allowed everyone to choose up to THREE cards. I thought that might make it easier for the indecisive types to make a choice!
Here are the results of the poll, sorted and graphed: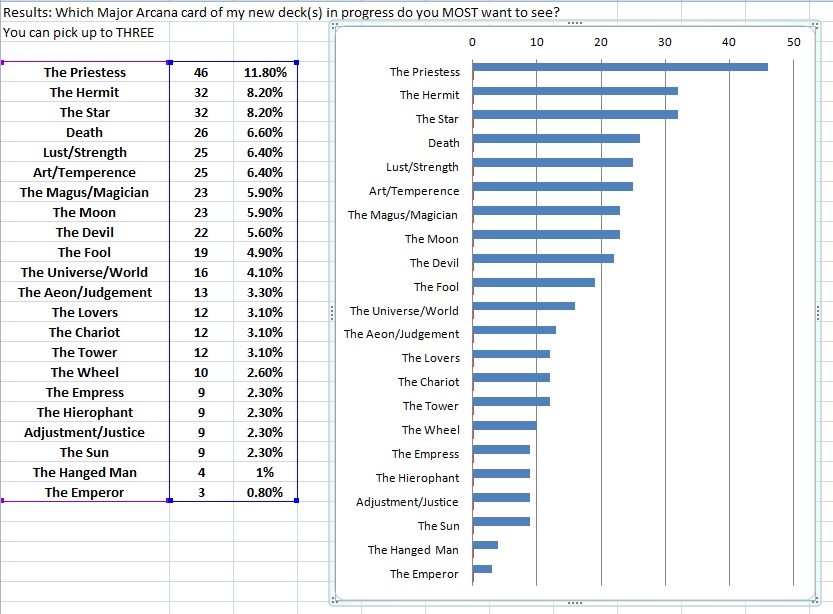 Unsurprisingly, the Priestess card came in number one. Many tarot readers identify with her as an archetype, the mysterious keeper of wisdom. In the number two slot we have a bit of a surprise. While the Star was expected to be in the top three, the Hermit tied the Star for the runner up position! Another archetype of wisdom! I do think that perhaps many tarot readers, especially male readers, may identify strongly with him too. It is likely that many of us interested in occult pursuits are introverts, exploring the depths on our own. But I would have guessed that the Magus would have been there instead.
Personally, I was shocked to not see the Moon card in the top three. I would have guessed our other lunar archetype to be right near the top. I'm also surprised the Fool didn't rank just slightly higher, simply because the Fool is said to contain the seed of the entire arcana series, and thus sets the tone of a deck.
On the other end of the spectrum, we have the least voted for card, the Emperor. I guess patriarchy and structure are concepts considered pretty staid right now. Also, most Emperor cards are not all that interesting. Tabula Mundi's Emperor I think is an exception if I do say so myself, but in general you can pretty much picture a red guy on a red throne, some rams and flames. So ok, I get why he isn't that popular of a choice. The Hanged Man fared low as well. Waiting for wisdom is not what we want to do! One step above those two is a group that fared pretty low as well. What I think they all have in common is that they are cards with very simple images generally speaking.
Maybe you are wondering what I myself voted for. Well actually, I didn't vote! I wanted the poll results to be untainted by my personal opinion. OK that is a bit of a cop out; I am also one of those indecisive types! Even picking three is hard. For the purposes of evaluating a deck, I'd probably choose the Fool for sure, for the reason already mentioned. I'd probably want a peek at the Devil and/or Death, because how a deck tackles those topics says a lot about it, and unlike a more simple archetype like the Tower, there is a lot of artistic license that can happen there successfully. Plus, I really like the Devil and Death cards; they are favorites! Another one I'd have to choose is the Art/Temperance card. Again, it can be a very complex card with an evocative image – or in the wrong hands it can be boring. As a Sagittarius, and an artist and alchemist, I identify with that card and it is one of my personal favorites.
If the deck purports to be Thoth based, I'd also want to see at least one of the following cards: Lust, Aeon, Adjustment, Hierophant. Especially the Aeon! If a deck doesn't tackle the Aeon in a Thelemic way, then it is Thoth based in name only.
So by now you are probably wondering, when will I stop talking and show you some cards? And what will I show? I'm not as far along as I'd hoped when I put up the poll. Basically the very day I put up the poll, a situation came up that needed my immediate attention, was fraught with irritation and stress, and had to be dealt with. So zero time has been put into getting the art showing ready since then as all of my energy was pulled elsewhere. It was a situation that took weeks to resolve and lots of effort. Excuses, excuses. I'd thought that by the time the poll was done I'd have stuff ready for you, I really did! I was on a grand roll artistically. Life happens.
But since I said I would show something, I will honor that even though I'm not really ready. I wanted to have at least one of the top three card picks fully complete, not just in sketch form. Some background info: I have more than one deck started. I do have a Priestess card done in one deck, but in the other  she is only a drawing that hasn't yet been painted. And the deck that she isn't yet done in is the deck that I've decided to focus on. Because doing a deck takes so much time, I was crazy to start more than one at once! So I'm not quite sure what to do here. If I show the completed Priestess from the deck that has been postposed for now, it could get confusing. The other deck, I'm keeping her under wraps until she is painted.
That said, I do want to give you a peek. I have lots of drawings ready to transform into paintings. These are rough sketches though, so I am very hesitant to show them, as the final painted product in full color is always so much better than the pencil sketch hints at. I may pick three sketches to show just as a teaser: one from the top three of the voting results, one from the mid range, and one from the bottom three. Or finish the other Priestess painting, and show you the Priestess from both decks at once. Here is where indecisiveness kicks in.
Finally, apologies for it taking so long to get this preview out. I hope when it finally debuts it will be worth the wait. It is coming!
UPDATE: The Major Arcana sketches are complete – and the showing will begin this summer so stay tuned!