Finally, after our pandemic spring and summer, and all the strange and chaotic events both related and unrelated that have unfolded in 2020, I'm feeling the muse stirring. Finally wrapping up my gardening "fervorino" of the spring and summer seasons. Harvested the onions and garlic, and made more pickles, both fermented and canned, than any one human should. And tinctured some medicinal herbs for the winter. There are still garden tasks to do like process tomatoes but my interest in the whole gardening and cooking stuff is waning with the season, and I feel the urge to go within and work on art again.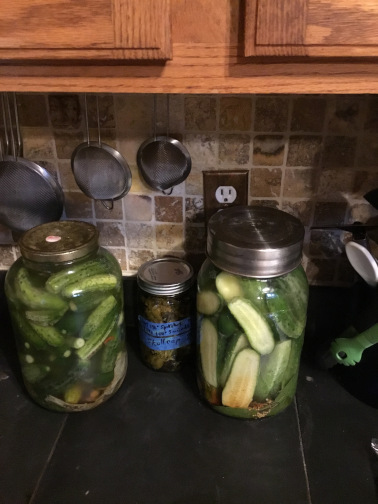 Problem is, I have more than one tarot I could pick back up and work on. Whatever the next one is, I guess it will be my 5th in a sense (Rosetta Tarot, Tabula Mundi Tarot in black and white, Tabula Mundi Tarot in color, Pharos Tarot.) I guess you could also call it the 4th if we just count both versions of Tabula Mundi as one tarot deck – though I count it as two since the black and white one came out a year before the other and has a very different look and feel to it.
Either way, now with a different type of creative urge rising, I have to choose one to focus on. While I suppose one could work on more than one deck simultaneously, the process of creating a deck takes so very long, for me anyway, that it makes more sense to pick one and stick with it for a while. There is also another book illustration project for a friend that might happen – though I haven't heard much from that quarter lately. I suppose 2020 has thrown us all off track.
These are a few of the tarot related possibilities…
Make Pharos Tarot into a full deck? While this is the most practical since the Majors are done, it's the least likely as for now at least the muse thinks that one is destined to be a Majors only.
Continue progress on the as-yet-unnamed deck that I was excitedly working on before all the crappy things that happened early in 2020 broke my artistic momentum. This deck is based on a resource I think is pretty cool (but as of yet I don't want to say what – it will be revealed during the process when work resumes on it.) I've completed pencil drawings for 0 Fool through V Hierophant – so six cards drawn but not refined into completed paintings. That's pretty good considering that for me the hardest part is getting an idea, composition, and sketch I like. The media will be something new and exciting – similar to the ink on mylar of Tabula Mundi, but with additional mediums and techniques incorporated that I'm excited to try working with together on the mylar. A combination of anything goes combining inks, acrylic, oils, colored pencils, enamels.
Continue progress on a deck that is named in my mind – but the name has not been announced yet. For this deck I have completed actual finished paintings for 0 Fool through III Empress – so four cards done. Well, five actually as I did two Magus cards, as I just didn't like one of them enough. I may even have to do a third as I'm not sure even about the one I kept. This deck is painted on 8×10 hard panels in matte acrylic. You may remember seeing a sneaky peek of the Fool card on my "Big Bonus 777" slot machine altar post for April Fools Day 2018. I was working on this deck before Pharos, way back then, but abandoned it in favor of Pharos because I wasn't feeling the acrylic at the time and became very attracted to the idea of working with and trying to master watercolors. Now that I got that out of my system, acrylic seems appealing again!
Start over with something else, using some new medias I want to learn: gouache, casein, egg tempera, gilding. This would be both challenging and, if I succeed in the learning part, really beautiful. But also most time consuming and is probably the least practical choice seeing as all the other options at least have some progress made. Also traditional egg tempera is pretty demanding as you actually make your own paint, and gilding is unlikely to scan or photo well, though I suppose it could be added during the printing process instead.
I'm leaning towards option 2 or 3, since the muse isn't feeling 1 and 4 seems most daunting! So here is a sneak peak at something from each. First up is a VERY ROUGH pencil drawing of the Magus from option 2. It's not properly developed or shaded yet, and of course is subject to change. Note the hand gestures of the Magus, his familiars, and his shadow(s) – that's my favorite part. Of course it's going to look much better when it is painted in color!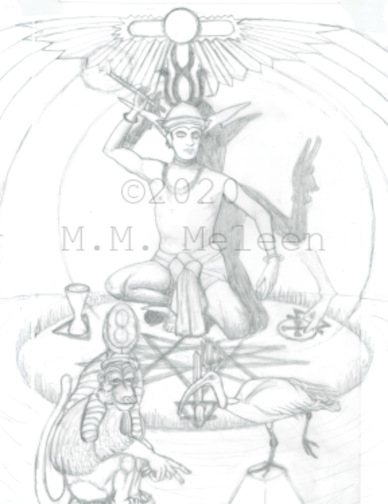 Below is a finished painting from option 3, of the Priestess. She is looking down the middle pillar, from highest Kether down to the solar heart of Tiphareth; behind her lunar rays pour her waters and radiate the form of a great cup.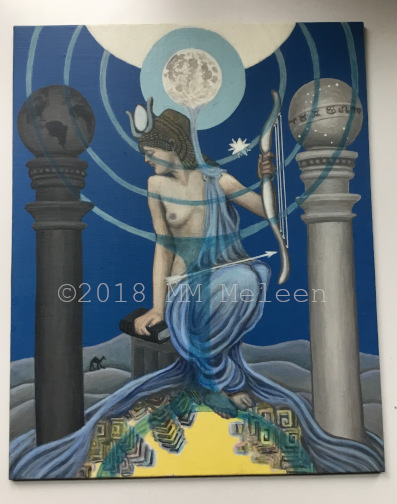 So those are the options. If I live long enough I'll finish both option 2 and 3 eventually, and maybe the others. For now I guess I just have to trust the muse to choose – though will take opinions into consideration!